Prestige XL2 DTF Roll Printer
SKU
BNDL-PRESTIGE-XL2-DTF
You can read up on the benefits of DTF roll printing with this article!
Current expected Lead Time: 5 weeks
The Prestige XL2 is your perfect high-end DTF printer option, with dual printheads, premium print quality, and a smaller size in comparison to other printers with similar performance. Elevate your garment printing pipeline today with the Prestige XL2 DTF Printer, plus save when you bundle with the Seismo A24 Powder Shaker for easier, more efficient DTF printing.
What's included:
6 Month Warranty on Printheads, 1 Year Warranty on other Parts

Lifetime Technical Support

Digital Factory Rip Software

Limited to 1-year warranty on non-consumable parts and limited 6 month warranty on the Printhead up to 2 Printheads*
Features
:
Two i3200 print heads
Compact Size/ Less Foot Print 

Head Strike Sensor - Prevents any head strikes
Specifications: 
Print Head 
Dual Epson I3200 Printheads (CMYK - WWWW)
Printing Accuracy
1440/2160/2880dpi
Printing Speed 
4Pass: 12㎡/hour
6Pass: 9.5㎡/hour
8Pass: 7.5㎡/hour
Printing Assit
Front and rear arc plate heating; Platform suction; White ink circulation; Anti collision of nozzle; One-click auto cleaning; Integrated auto-lifting capping station; Built in computer and monitor combined bracket;
Maximum Width 
23.62"
Printing Media
PET Film
Printing Interface
Gigabit network port
Operating System
Windows 7, Windows 10
Printing Software

Digital Factory V10 Direct to Film (DTF) Edition - DTF Edition (24" Wide or Larger)

Operation Environment
Temperature:15℃-30℃ (60

°F-86°F)

, Humidity:35%RH-65%RH
Rated Voltage
110V
Rated Current
14A
Rated Power
1500W
Dimensions of Printer
52.30" x 25.90" x 55.11"

Dimensions of Packing 
57.64" x 39.37" x 28" 
Net Weight
330.70 lbs
Gross Weight
396.83 lbs

The DTF Process: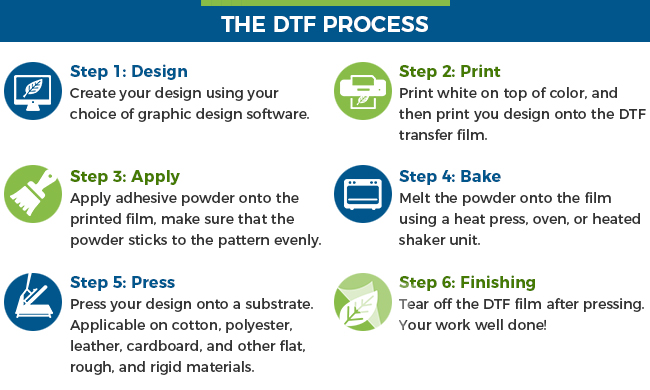 Advantages of DTF Printing:
A great option for small orders.
No cutting and weeding required.
Crisp, defined edges and images from start to finish.
Low cost on waste.
Low investment - high reward.
Applications:
All Color T-shirt
Sweater / Hoodie
Jersey
Canvas Bag / Cushion
Jeans / Denim Cloth
Leather
Shoes
Pants / Trousers
Cap / Mask
--------------------------------------------------------
Seismo A13 DTF Powder Applicator & Dryer
NOTE: You can add a Portable Air Filter to this unit for an additional cost.
After you print your design, the Seismo A13 DTF Powder Applicator & Dryer takes over by evenly spreading, then melting the exact amount of adhesive material directly onto your design saving time, effort and cost. Three resources you need to conserve to run a profitable business. Also, with a handy vacuum absorption platform and infrared heat drying, you are assured a smooth result every time.
Features:
Having a simple to use touch screen really helps. Just touch the desired option to navigate through the menus and voila, you're ready to go!
Customizable automatic powder recycling feature, increases effectiveness against manual recycling.
Infrared drying and heating improves and protects color reproduction.
The vacuum absorption conveying platform secures the printing material to avoid bulging, run-offs, and media waste.
Specifications:
Actual Dimensions

 

34 x 26 x 24 in.

 

Shipping Dimension

 

35 x 28 x 34 in.
Actual Weight

 

approx. 120 lbs
Shipping Weight

 

170 lbs
--------------------------------------------------------
The
Seismo A24 DTF Powder Applicator and Dryer
unit can cure DTF film rolls up to 30 inches wide and is compatible with all roll to roll Direct to Film printers. This machine has 220 volts, 21 amps and requires hardwire. (Please communicate with your electrician to install this product).


Features:
42.52 inch Heater

: Longer heater/dryer than other dryers to accommodate Faster DTF roll-to-roll printers. 

Compact Size

: Smaller in comparison to other DTF powder applicators, without sacrificing quality or performance.

Advanced Built-in HEPA 2 Layer Air Filters

 

filter out any fumes from DTF powdering. These low maintenance, easy-to-replace filters keep your working environment clean and safe.

Advanced Film Detector

: With the built-in film sensor, the Seismo A24 automatically turns off and on the power station and heating elements. This results in a lower power requirement of 220v 21 Amp (consumes approximately 30% less than the older generation).

Advanced powder ventilation within the powder station

: Heating fans help reduce any powder build-up in the powdering station, meaning less maintenance for the user.

Air vacuum conveyor system

: Air vacuums at the front and back of the conveyor keep film from slipping or moving. They also help to align the DTF film to achieve even heating throughout the heater/dryer.

Advanced Take-Up System

: Additional tension bar to roll up the finished DTF films better.

LCD Touch Screen

: Easy to monitor and control 
Warranty:

 

1 yr warranty on all parts excluding air filter/ purification system (regular maintenance required)
Actual Dimension: 
6.1 x 3.5 x 3.5 ft.
Specifications:
| | |
| --- | --- |
| Power | 4KW |
| Shaking Powder | Motor vibration, automatic powder return-free |
| Heating Method | Back baking and front baking for speed and consistency |
| Take-up and Feed Film | Auto-sensing |
| Operation Mode | Manual/Auto control |
| Mesh Belt | Drum suction operation mesh belt |
| Automatic Deceleration of Film Cutting | Prevent deformation of heating film |
| Method of Dusting | Constant weight automatic sensing |
| Weight | 352.74 lbs |
| Product Dimensions | 6.1 x 3.5 x 3.5 ft. |
| Package Dimensions | 6.5 x 4.3 x 3.6 ft. |
| Configuration | With All-in-one smoke purifier |
-----------------------------------------------
NOTE

: There is a 5 week lead time on Purifier MINI Portable Air Filters.
The Portable Air Filter absorbs and filters any gases or dust and can achieve 99.97% purification rate, which prevents environmental pollution. 
Benefits:
Strong Ventilation

Multi-angle adjustable hose
Low noise
Easy to use
Features:
Greater Dust Capacity - Square vertical filter core has larger dust capacity than single-layer filter core. Longer service time of filter core.

Movable And Adjustable - The smoke absorbing pipe can be disassembled, and the length of the pipe can be adjusted.
Easy To Use - The Purifier is plug-in. 

47.24 inch Long Hose

8" x 8" x 9.5" (W x D x H)

9 lbs
Specifications:

Voltage: 110V
Wide applications: Soldering iron welding station; Laser welding, engraving, marking, cutting; Chemistry laboratory; Medical treatment, cosmetology, etc.

NOTE: Please replace your filter at least every 3 months