Description
6″ x 8″ Automatic Digital Combo
The Digital Combo DC8AP is an air operated, automatic 6×8 label sized swing-away heat press with optional interchangeable heat platens and tables. The smooth automatic pressing and pushbutton activation provides a productive, fatigue-free operation.
Identical to the DC16AP automatic larger sized combo press, this press is ideally suited for label printing, applying "tagless" labels to garments, embroidered patches, and any small pressing area where a large heat platen is not appropriate.
Shown below are optional configurations of the DC8AP. This press functions well with bottom heat for pressing thicker embroidered patches/appliques and other products needing heat from the back side of the material. Also shown is the press in a cap configuration – the DC7AP. There are many other possibilities with the Digital Combo manual or air operated press machines.
For a manual version of the DC8AP, see the DC8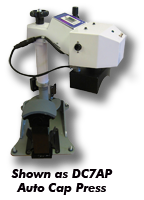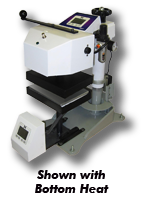 FEATURES
Automatic air operated pressing
Fully digital temperature control 32°-600°F range
Automatic digital timer & dual pre-press timer
Air regulator and gauge 20-100 PSI range (compressor req)
Total applied force of 800 lbs max
Interchangeable Heat Platens & Tables
Solid steel welded framework
SuperCoil-Microwinding™ heater technology
Accommodates materials up to 1″ thick
Temperature readout accuracy +-2°F – can show °C or °F
70 Programmable presets
Records number of pressing cycles done
Teflon-coated 3/4″ thick heat platen
WARRANTY
FREE LIFETIME Tech Support!
Lifetime warranty on heat platen
5-year warranty on frame
3-year warranty on controller
1-year warranty on parts
SPECS
Air Compressor Required (min): 5gal, .5cfm, 100psi, 1/4″ line
Weight: 110 Lbs
Electrical: 600W / 5A / 120V
Dimensions: 23″L x 23″W x 23″H – 110 lbs
Shipping charge may apply. Please call at 714-576-2900 for more information.